Dumbbell Side Bend:
The dumbbell side bend is an exercise that targets the oblique muscles with the help of dumbbells.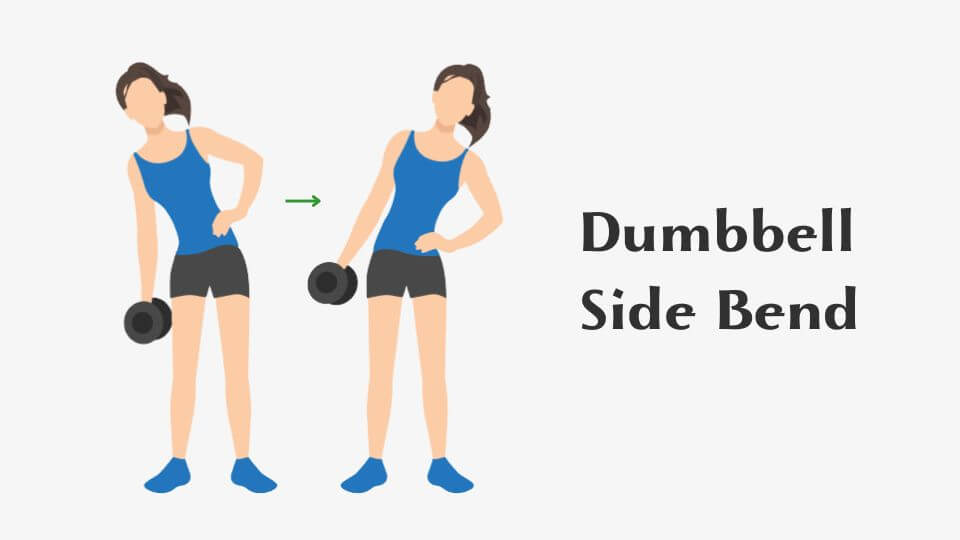 Here's how to perform it:
Stand up straight with your feet hip-width apart, and hold a dumbbell in one hand, with your palm facing inwards.
Place your other hand on your hip.
Keeping your back straight, slowly lower the weight down towards your knee on the same side as the hand holding the dumbbell. It would be best if you felt a stretch in the side of your waist.
Slowly return to the starting position.
Repeat for the desired number of repetitions, then switch sides and repeat with the other hand.
Here are some tips to help you perform the dumbbell side bend exercise correctly and safely:
Start with a lighter weight: It's important to start with a weight that is comfortable for you and gradually increase the weight as you become stronger and more comfortable with the exercise.
Keep your core engaged: Keep your abs tight throughout the exercise to maintain proper form and prevent injury.
Avoid twisting: Avoid twisting your torso or bending forward during the movement to prevent straining your lower back.
Keep your shoulders back and down: Maintaining good posture throughout the exercise will help prevent injury and ensure you effectively target the oblique muscles.
Breathe properly: Inhale as you lower the weight, and exhale as you return to the starting position.
Focus on slow, controlled movements: Perform the exercise slowly and with control to maximize the effectiveness of the exercise and minimize the risk of injury.
Switch sides: Make sure to perform the exercise on both sides to ensure that both oblique muscles are evenly strengthened.
It's necessary to maintain proper form throughout the exercise to avoid injury. Keep your abs engaged and avoid bending forward or twisting your torso. Also, start with a light weight and gradually increase as you become stronger and more comfortable with the exercise.